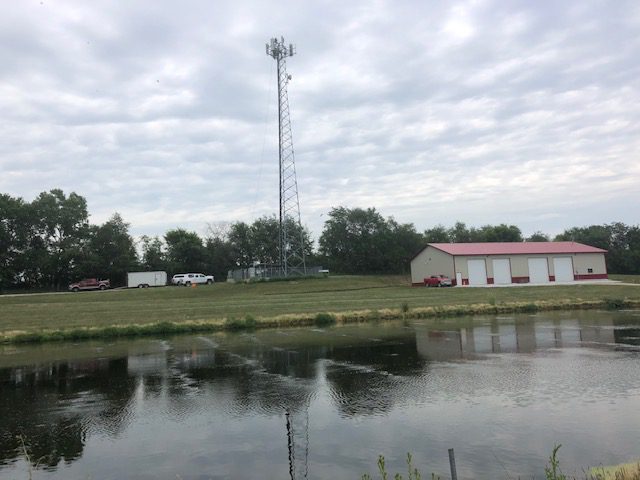 The City of Hartford Public Works department is responsible for street repairs, street sweeping, snow removal, mowing, ice control, traffic signs and general maintenance of public spaces.
In addition, the public works department is responsible for the maintenance of the waste water and storm water collection system.
The  current wastewater treatment process is a "controlled discharge  lagoon" system. This type of treatment is commonly used by small communities across Iowa. With controlled discharge lagoon treatment, all  wastewater is held in large storage ponds, and over time a natural processes treat and clean the wastewater to a level than can be safely discharged.
YARD WASTE COLLECTION SERVICE
Contact ASPEN WASTE at 515-974-1400 prior to collection day for program details and cost; must be prepaid.
HAZARDOUS WASTES/JUNK
If you have hazardous wastes you need to dispose of information is available for pickup at city hall, by contacting Metro Waste Authority at 515 244-0021 or visit www.WhereItShouldGo.com
UNUSED VEHICLES
If you have a vehicle to donate (running or not) please call 1-888-344-HOPE (4673) "Teen Challenge" accepts cars, trucks, vans, SUV's, boats, campers, RV's, tractors and more. Donations are tax-deductible and all proceeds benefit the "Teen Challenge"program in central Iowa. Their staff will arrange to pick up your vehicle (whether you're home or not) and will handle all paperwork. Call 1-888-344-HOPE (4673) to start process!!
If you have a question, comments, or need to have a work order created. Please contact City Hall (below), or you can reach us on our Contact Us web page.
City Hall Office Hours
Monday thru Friday 9:00 A.M – 4:00 P.M.
150 W Elm Street
Hartford, Iowa 50118
Phone: 515-989-0267
Fax: 515-989-0211